Meet Arthur
Arthur was facing homelessness, unemployment, and the challenges of addiction. Today, after being hospitalized and later cared for in our medical respite center, Arthur is on a new path in his life journey.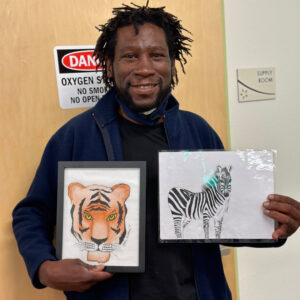 He is sober and in recovery. Arthur is also employed as a security guard and has reconnected with family members who had become casualties of his circumstances. By reconnecting with his daughter, Arthur says he has found the inspiration to continue to heal and recover. His family connections also helped Arthur become a better father and role model for others.
Arthur's story is also told through another proven model of therapeutic care: art. His work can be found proudly hanging in our respite locations. His paintings of wildlife are striking and powerful works of nature that showcase his artistic talent. In another work, Arthur creates art with a painting of a turtle on a rock emboldened with the peace symbol.
The turtle metaphor shadows Arthur's newfound life philosophy – perseverance, steadfastness, healing, and transformation. It also illustrates the mission of Circle the City to meet people where they are and serve the whole person – physical, mental, emotional, and spiritual.