Yale Climate Connections: For unhoused people in America's hottest large city, heat waves are a merciless killer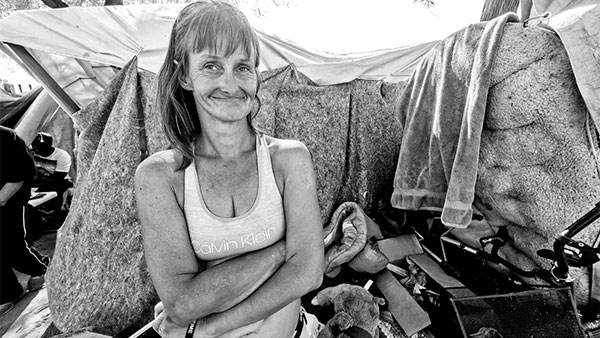 Finding shelter from extreme heat is critical to survival in Phoenix, Arizona, where record-breaking heat waves are on the rise.
"I've been down here far too many years," Shy said with resignation but no self-pity. "It's not a pretty sight."
Arms crossed, the 40-year-old Oregon native stood in front of the rough shelter she had built out of plastic tarps, discarded carpets, and a piece of felt the size of an SUV, all attached by carabiners and twine to an old Coleman tent with holes in the side.
But Shy wasn't talking about the other jury-rigged structures, beater bikes, or scattered piles of trash surrounding her. She was referring to the daily struggle to survive in the heart of "the Zone," a long, hot stretch of mostly shadeless streets and parking lots west of downtown Phoenix, where between 600 and 1,000 unsheltered people were living. At the time, it was one of the largest homeless encampments in the United States.
Shy, whose last name we're not publishing for privacy reasons, said she was on a waiting list for subsidized housing and hoped to get a place soon. Asked how long she'd been waiting, Shy hesitated while doing the math. "I signed up three years ago," she said.
This was in early May and the temperature already hovered around 100 degrees Fahrenheit. Shy was dressed for the heat, wearing a gray Calvin Klein sports bra and light-colored shorts held up by a colorful knotted scarf. In two months it would get far hotter, up to 119 degrees.