The Guardian: Residents of US south-west swelter under record-breaking heatwave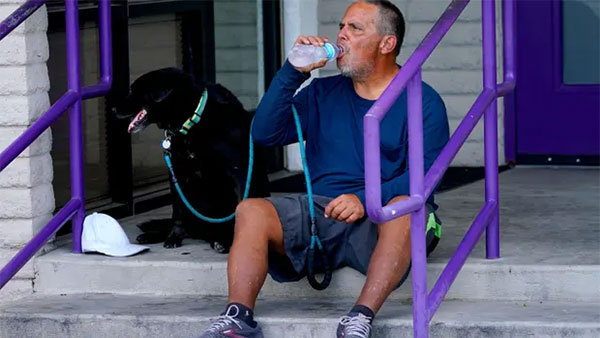 Relentless temperatures upwards of 100F leave millions under extreme heat warnings and outdoor events cancelled
Record-breaking heat is baking the US south-west this week, putting millions under extreme heat warnings as temperatures upwards of 100F (38C) hit Arizona, Nevada, New Mexico and southern California for days on end.
Even desert residents accustomed to scorching summers are feeling the relentless grip of the heat. Phoenix, which hit a 12th consecutive day of 110F on Tuesday, could see its longest ever heatwave.
The high temperatures in Arizona's largest city are expected to continue through next week, with the National Weather Service warning it will rival "some of the worst heatwaves this area has ever seen". The longest recorded stretch of 110F-days was 18 days in 1974.
The region has not yet seen any monsoon activity, powerful storms that can help offset blazing temperatures and are typical of this time of year.
In Phoenix, Martin Brown and his black labrador, Sammy, escaped the heat on Monday in the lobby of Circle the City, an air-conditioned walk-in health clinic for homeless people that is also a designated hydration station. Anyone can come in, sit and get bottled water or snacks like a burrito or ramen.