The Future Looks Rosy for Circle the City Patient Michael Stone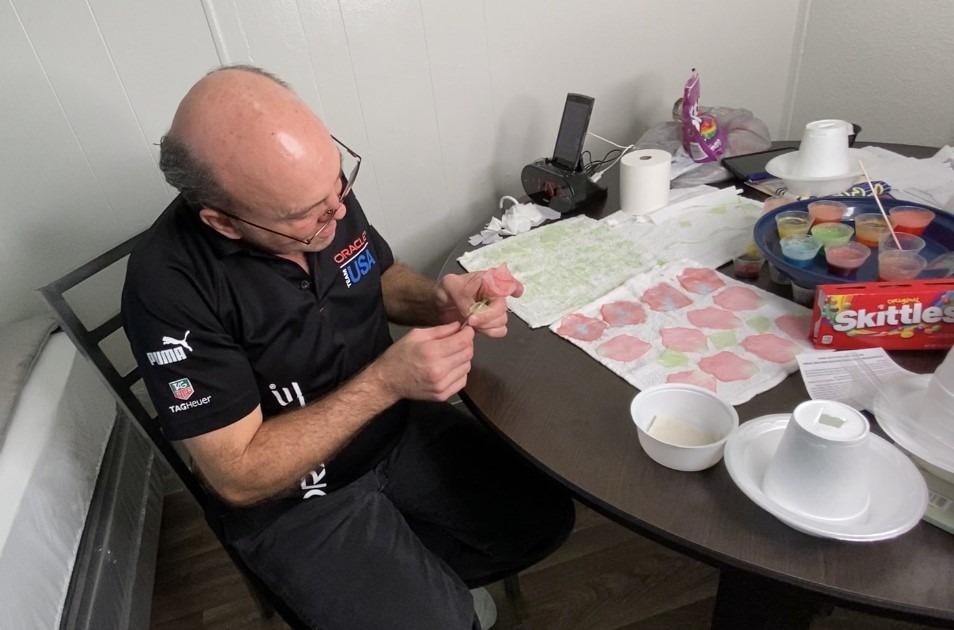 [vc_row][vc_column][vc_single_image image="8197″ img_size="400×600″ alignment="center" style="vc_box_border" el_id="hi" el_class="hi"][vc_empty_space][vc_column_text]Some people have a smile that can light up a room.
Michael Stone has a smile that could light up a city.
Especially today.
After years of living on the street, Stone finally has a place to call home. "This is like a miracle! A new bed! A stove!" exclaims Stone with a twinkle in his eyes. "This is cool. I think I'm home..I really think I'm home!"
It is a dream come true for the 55-year-old Phoenix man, who admits some choices in his youth didn't put him on the right path. Drug use landed him in prison for a five-year sentence. He lost his family, his home, and his spirit. "Usually I have happy tears, but not when I think about my past," says Stone regretfully. "I hurt my family, and people who had faith in me. My integrity went downhill."
After his release from prison, Stone found himself facing homelessness. His attempts at a fresh start took another downward turn when he began to encounter serious health challenges. First, problems with his feet that made it hard to walk. Then, Stone contracted Methicillin-Resistant Staphylococcus Aureus, or MRSA, a staph infection resistant to many antibiotics. The diagnosis landed him in the hospital, where doctors worked to save his hand. Stone feared it could be another dark chapter in his life. Instead, it proved to be the path to a bright, new future.
Once cleared of MRSA, Stone was discharged to Circle the City's Downtown Medical Respite Center, where he could rest, heal, get daily medical attention, meals, a clean bed and the support he needed. "We all get choices of what we're going to do, and this place has given me everything," explains Stone. "I thought for sure I would be back out on the streets. This is a real miracle."
Circle the City provides healthcare to men, women and children facing homelessness. But there's more. Part of Circle the City's mission is to help end the cycle of homelessness, by connecting patients with resources they need to get back on their feet. "Some of our patients don't have ID's, their social security card, birth certificate, and we make sure they get primary care services established," explains Carlos Pineda, Circle the City Case Manager. "My job is to help them connect to all these services. Each person is different and has had different experiences. I enjoy getting to know someone and learning how I can help them. That is my motivating factor."
It worked.[/vc_column_text][vc_empty_space][/vc_column][/vc_row][vc_row][vc_column][vc_single_image image="8200″ img_size="1005×700″][/vc_column][/vc_row][vc_row][vc_column][vc_column_text]Stone creating his toilet paper roses at his kitchen table in his new apartment, Phoenix, AZ            Feb. 5, 2021
As Stone started to get his health back, his spirit followed. He returned to the hobby he once had of creating hand-made roses out of two unexpected items- toilet paper and Skittles candy. He loves giving the roses away as much as he loves making them. "Orange, violet, purple, red. The roses are all the colors of the rainbow," says Stone. "The roses bring happiness to everybody. Once I see happiness, everything is happy."
Dozens of roses, and many housing applications later, Pineda delivered the news Stone was hoping for-a new apartment. "The patient has to want it, and I know Michael has been wanting this for a very long time," says Pineda. "He put the work in, and now this is just a stepping stone for what's next." Pineda says Circle the City's model of care is unique in combining case management with healthcare to help end the cycle of homelessness. "Patient by patient, you are making a difference," says Pineda. "To them it is a huge thing and that's what fills your heart, and gives you the motivation to keep helping. You are making a big difference in someone's life individually."[/vc_column_text][vc_empty_space][vc_single_image image="8229″ img_size="1115×700"][vc_column_text]Stone and Circle the City Case Manager Carlos Pineda on move-in day, Phoenix, AZ Feb. 8, 2021
These days Stone is enjoying life in his new Phoenix apartment. He has big plans for his future, including teaching others how to make his toilet paper roses. Stone sends a heartfelt "THANK YOU" to YOU, our supporters, who are helping people like him get off the streets and find their way home. "I think I will stay here a while," says Stone. "I've got roses to build, stories to make, and a life to create."
[/vc_column_text][vc_btn title="Donate" color="success" size="lg" align="center" link="url:https%3A%2F%2Fwww.circlethecity.org%2Fcirclethecitydonation%2F|||"][/vc_column][/vc_row]