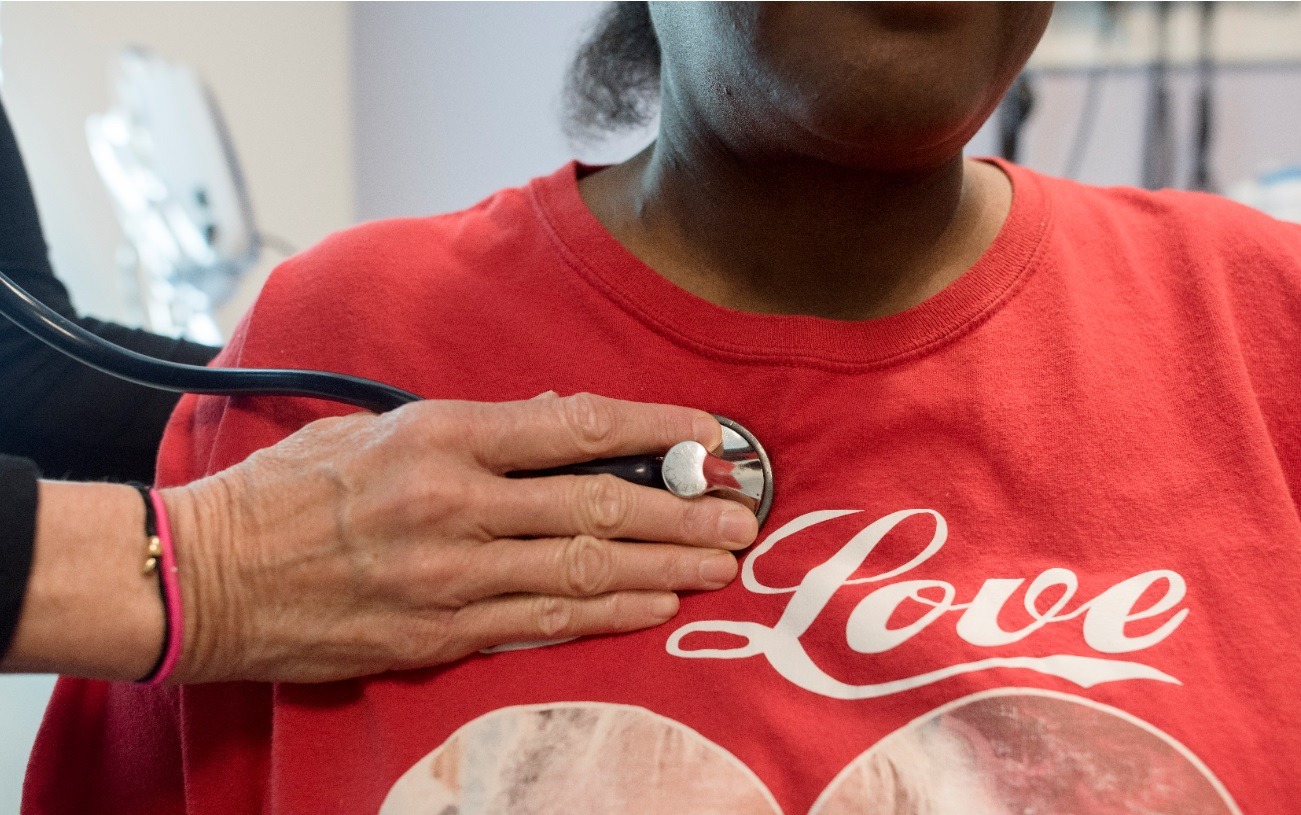 [vc_row][vc_column][vc_column_text]
PHOENIX (March 12, 2020) –
Circle the City was awarded a $250,000 grant from The Bob & Renee Parsons Foundation to fund general operating expenses for its multiple medical facilities and mobile clinics. The community health organization is dedicated to providing high quality, holistic healthcare to people facing homelessness in Maricopa County. This year, Circle the City will care for roughly 7,000 homeless patients who are either living with acute conditions or need ongoing medical care to recover after being discharged from the hospital.
"People facing homelessness are too often overlooked by traditional healthcare. Emergency needs are addressed in a hospital, but they are left without the resources to fully recover," said businessman Bob Parsons. "Circle the City is providing its patients with a safe place for continued care and complete healing."
Circle the City works under the philosophy that if people are given the time and place to recover their health, they are able to recover their lives. In addition to medical services, the organization addresses things like chronic disease management, mental healthcare, substance abuse intervention and physical therapy. Additionally, measures are taken to ensure patients are successfully discharged to safe living environments and case managers work diligently to help them apply for benefits and find appropriate housing.
"There has been a steady rise in homelessness and widening gap in available resources to meet the complex healthcare needs of this population," said CEO of Circle the City Linda Ross. "Because of the generosity of Bob and Renee Parsons, and their belief in our organization, we can continue to serve our community's most vulnerable where they are, with dignity and compassion."
The $250,000 grant is the latest gesture of support from The Bob & Renee Parsons Foundation, which has a record of backing Circle the City's efforts to fill critical gaps in healthcare for individuals facing homelessness. A gift in 2015 largely funded the construction and launch of The Parsons Family Health Center, an innovative family health clinic that provides primary care, integrative behavioral health services, case management and substance use intervention to homeless individuals. This recent grant brings the Foundation's cumulative support of Circle the City to $3,250,000.
"Circle the City has been nationally recognized for its work in providing high-quality healthcare to people facing homelessness," businesswoman Renee Parsons. "But just as important, they treat their patients with respect and kindness. Something many of them have not experienced in quite some time."
Circle the City's Medical Respite Centers have been recognized as one of the leading programs of its kind in the United States and have served as a model for dozens of other emerging programs across the nation. More than excellent healthcare, the organization provides patients with a path out of homelessness with integrative outpatient behavioral health and substance abuse services as well as housing placement assistance.
This recent grant also will enable Circle the City to improve patient satisfaction while simultaneously modernizing scheduling, increasing staff engagement and enhancing its culture of patient-centered care. To learn more, visit circlethecity.org.
About The Bob & Renee Parsons Foundation
The Bob & Renee Parsons Foundation offers support to nonprofit organizations successfully working to empower, educate, nurture and nourish people during what is often the darkest time of their lives. Founded in 2012 by philanthropists and business leaders Bob and Renee Parsons to provide hope and life-changing assistance to the country's most vulnerable populations, The Bob & Renee Parsons Foundation offers critical funding at critical times to those in need. The Foundation's giving is driven by the core belief that all people – regardless of race, religion, roots, economic status, sexual orientation or gender identity – deserve access to quality healthcare, education and a safe place to call home. Follow @WeDealInHope on social media or visit TBRPF.org, to learn more about partner organizations and the important work being done in the community.
###
[/vc_column_text][/vc_column][/vc_row][vc_row][vc_column][vc_raw_js]JTIwJTIwJTIwJTIwJTIwJTIwJTIwJTIwJTIwJTIwJTIwJTIwJTIwJTIwJTIwJTIwJTIwJTIwJTIwJTIwJTIwJTIwJTIwJTIwJTBBJTNDc2NyaXB0JTNFJTBBJTIwJTIwJTIwJTIwJTI4ZnVuY3Rpb24lMjAlMjhjb25maWclMjklMjAlN0IlMjB2YXIlMjBzJTIwJTNEJTIwZG9jdW1lbnQuY3JlYXRlRWxlbWVudCUyOCUyN3NjcmlwdCUyNyUyOSUzQiUyMHMuc3JjJTIwJTNEJTIwJTI3aHR0cHMlM0ElMkYlMkZjZG4udmlydHVvdXNzb2Z0d2FyZS5jb20lMkZ0cmFja2VyJTJGdmlydHVvdXMudHJhY2tlci5zaGltLm1pbi5qcyUyNyUzQiUwQSUyMCUyMCUyMCUyMHMudHlwZSUyMCUzRCUyMCUyN3RleHQlMkZqYXZhc2NyaXB0JTI3JTNCJTIwcy5vbmxvYWQlMjAlM0QlMjBmdW5jdGlvbiUyMCUyOCUyOSUyMCU3QiUyMHZpcnR1b3VzVHJhY2tlclNoaW0uaW5pdCUyOGNvbmZpZyUyOSUzQiUyMCU3RCUzQiUwQSUyMCUyMCUyMCUyMGRvY3VtZW50LmdldEVsZW1lbnRzQnlUYWdOYW1lJTI4JTI3c2NyaXB0JTI3JTI5JTVCMCU1RC5wYXJlbnROb2RlLmFwcGVuZENoaWxkJTI4cyUyOSUzQiUwQSUyMCUyMCUyMCUyMCU3RCUyOCU3QiUwQSUyMCUyMCUyMCUyMCUyMCUyMCUyMCUyMG9yZ2FuaXphdGlvbklkJTNBJTIwJTI3ZGNlNmUyYzEtN2E0Ny00ZjE0LTgwMjktYjEzNjMzOWNmNjk1JTI3JTBBJTIwJTIwJTIwJTIwJTdEJTI5JTI5JTNCJTBBJTNDJTJGc2NyaXB0JTNF[/vc_raw_js][/vc_column][/vc_row]